Ovation Spring Lamb Recipe Competition 2016
Attention all Home Cooks!
Do your friends and family rave about how you cook your lamb?
Does everyone always ask for seconds?
Would you love to get your hands on some high quality, grass fed, export New Zealand lamb just in time for Christmas?
Ovation NZ is giving away an Ovation export lamb pack and Ovation merchandise pack for the lamb recipe judged most delicious by multi-award winning Chef Francky Godinho. The winning recipe will also feature on the Ovation recipe page, alongside lamb recipes created by some of New Zealand's most well-known chefs.
HOW TO ENTER:
Post your favourite lamb recipe (with a photo) to the Ovation NZ Facebook page before 5pm Wednesday 30 November 2016 (by entrant's time zone).
Be sure to get your friends to share and like your recipe because Francky will be considering each recipe's likes and shares when he chooses 2 finalists for final Facebook voting from December 2-6.
The winner will be announced Friday 9 December.
PRIZE:
The Ovation export lamb and Ovation merchandise pack that will be sent to the winner of the Ovation spring lamb recipe competition.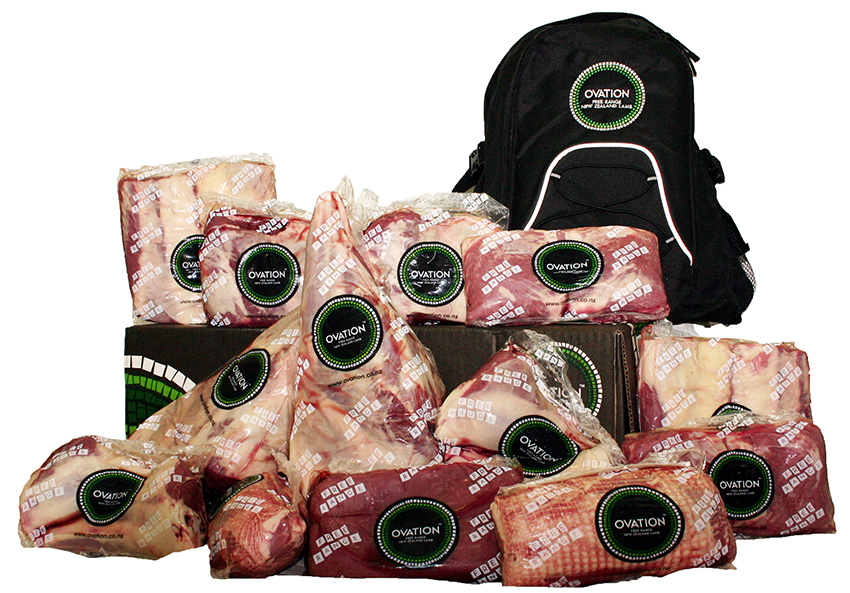 TERMS AND CONDITIONS

This competition is being run by OVATION NEW ZEALAND LIMITED (Ovation) and is in no way sponsored, endorsed, administered by, or associated with Facebook. You understand that by entering the competition you are providing your information to Ovation and not to Facebook. Any recipes, images or information posted on the Ovation Facebook page will only be used by Ovation and in accordance with the Ovation competition in which you are participating.
ELIGIBILITY: Open to non-professional chefs, this competition is available globally, as our International marketing spread enables us to deliver the prize to most regions of the world.
The competition is not available to anyone under the age of 18 and although Ovation (and our affiliates) employees or their families may submit recipes and images they are not eligible to win the prize.
All applicable New Zealand laws and regulations apply.
Entry in the competition constitutes your full and unconditional acceptance of these Terms and Conditions.
1. COMPETITION PERIOD: October 5, 2016 to 5:00pm November 30, 2016.
2. COMPETITION ENTRY INSTRUCTIONS: During the competition period:
Upload your favourite lamb recipe and ideally a photo of the cooked dish to www.facebook.com/Ovationnz before 5.00pm Wednesday 30 November 2016 (by entrant's time zone) .
There is no limit to the number of entries per person and recipes submitted along with a photo of the cooked dish, will be given greater consideration by the judges.
3. PRIZE. A single winning prize of a carton of aged and frozen OVATION EXPORT LAMB, to the retail value of NZ$330 plus an OVATION MERCHANDISE PACK.
4. SELECTION OF COMPETITION WINNER: Two finalists will be selected according to the greatest number of facebook likes and shares in conjunction with an independent judge, the multi-award winning Chef Francky Godinho.
Francky was the NZ Chef of the year 2007 & 2009 and Emirates Culinary Guild Chef of the Year 2004 & 2005 back to back.
Today he owns and runs St Georges Restaurant just 5 minutes from Hastings in New Zealand.
Francky will be the sole judge of the first prize winner from within these finalists.
The winner will be notified via facebook on 9 December 2016 and have 30 days to claim the prize.
If first prize is unclaimed Francky will choose a 2nd place getter to be notified in the same manner. This process will continue until a winner claims the prize.
If the prize is won outside of New Zealand, Ovation reserves the right to engage the services of its International customer base to expedite delivery of the prize at Ovation's expense.
All matters in regard to the competition and selection of the winner will be managed by Ovation whose decision on all matters relating to the competition shall be final and binding.
5. PUBLICITY: All participants agree that Ovation NZ will have full publicity and usage rights to images and recipes submitted during this competition, in perpetuity.
All participants agree that in the event of winning this competition they may be required to be photographed receiving the prize and Ovation may use and publicise their name in any media without additional review or compensation.