Anawai Station
Gudrun Clark - Manager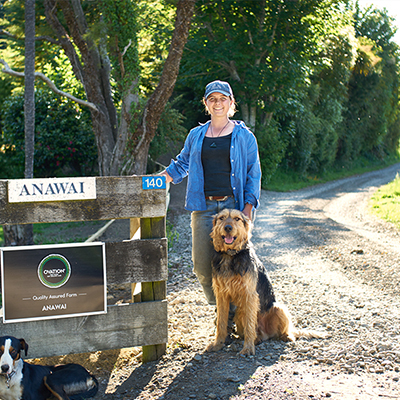 "Here in New Zealand it's pretty much paradise. We can keep stock outside, all year round."
Hi I'm Gudrun Clark and with my husband Sam we manage Anawai a 3450 acre easy to moderate hill country farm in Hawkes Bay on the East Coast of New Zealand's North Island. The property carries 3300 breeding ewes along with the resultant lambs and also beef and deer. All lambs are grass fed and we grow specialist forage crops of lucerne, plantain, kale and annual rye to provide a varied diet. Lambs are all finished on the property and raised without antibiotics, hormones or genetically engineered feed.
Farm Biography
Farmer:
Managers: Sam & Gudrun Clark
Property:
Anawai Station
Location:
-39.860920, 176.879233
View on Google Maps
Farm size:
3,700 Acres or 1,500 Hectares
Description:
Easy, medium to steep mixed hill country
History:
Family owned since the 1950s and into its 3rd generation of farmers. Anawai has been extended over time from its original 250 ha family farm to its current size through the acquisition of neighbouring properties.