"I'm proud of the fact that we're running a really environmentally sustainable farming system."
"I've chosen to farm here because I like the consistent climate we get. It's a good rainfall area and you need good rainfall to grow good tucker and to grow good stock."
Longrange Station
Ryan Foley - Manager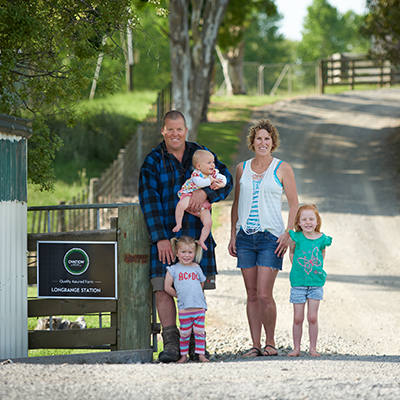 "The lambs we grow here are 100% grass fed, antibiotic free and raised without any genetically engineered feed. They're a fantastic product."
Greetings from Longrange Station. Run with a strong family commitment Ryan and wife Nic along with their 3 children Leilani, Frankie and Anya proudly manage Longrange station. Longrange is one of six properties making up Horizon Farming Ltd collectively running 50,000 stock units. Longrange is a specialty lamb breeding and finishing block raising lambs for Ovation under best practice and sustainable environmental management. All lambs are 100% grass fed raised without antibiotics, hormones or genetically engineered feed.
Farm Biography
Farmer:
Manager: Ryan Foley
Property:
Longrange Station
Location:
-40.134524, 176.760739
View on Google Maps
Farm size:
4,500 Acres or 1,820 Hectares
Description:
Specialist lamb breeding and finishing property
History:
Longrange was a 2000 acre property subdivided into six paddocks that was purchased by the Ritchie family in 1917. Development then began with subdivision and cultivation, later to be followed in the 1940s by scrub cutting and drainage. In 2003 it was one of three properties that joined forces to create Horizon Farming Limited.