Here is a simple summer dish that really brings out the best of Hawke's Bay produce. Ovation lamb cutlets that have been lightly marinated with fish sauce to accentuate their flavour, paired with the fresh earthiness of new season asparagus and the sweet and slightly smoky taste of caramelised strawberries, topped with a yoghurt dressing.
Grilled lamb cutlets, with asparagus, strawberries, and yoghurt dressing
By James Beck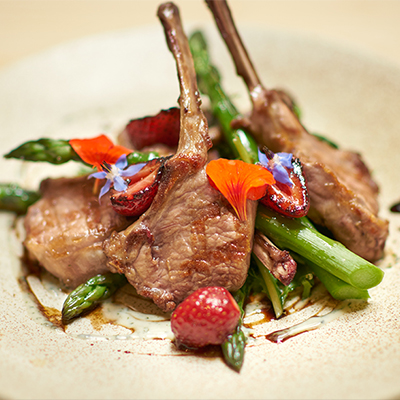 Serves 6-8
Time to cook: 15 minutes
Share:
Ingredients
30 Ovation lamb cutlets
36 asparagus spears
18 large strawberries
Mesclun salad mix for 6
Aged balsamic vinegar
Good extra virgin olive oil
Fish sauce
Nasturtium leaves and flowers for garnish (optional)  
For the yoghurt dressing:
100ml pouring yoghurt
3 mint leaves finely sliced
3 basil leaves finely sliced
6 coriander leaves finely sliced
Pinch of ground coriander
Zest of half a lemon
Salt and pepper to taste
Method
Half an hour prior to cooking the cutlets, marinate them in a splash of fish sauce.
Cook the asparagus in boiling salted water and reserve.
Hull and halve the strawberries.
Griddle or BBQ the cutlets for 2-3 minutes on either side, then put to one side to rest.
While the cutlets are resting, heat a small pan on the stove and add a splash of oil. Just before the oil starts to smoke carefully place the strawberries face down in the pan. Allow to caramelise for about 30 seconds before flipping the strawberries over and drizzling with the balsamic.
On the plates drizzle a nice design with the yoghurt dressing and the aged balsamic. Place 6 asparagus spears, and the mesclun salad on each plate. Then place 5 cutlets on the salad and top with the strawberries and drizzle with a little extra yoghurt and balsamic.