This is a dish that really speaks to the Hawke's Bay terroir. Lamb and seafood is not a classic combination but it actually works really well as the flavours of the broth complement the beautiful Ovation rump.
NOTE: The original recipe from James Beck included an eel broth which is a local speciality. For ease of ingredients sourcing we have replaced it with Dashi broth which is equally delicious. 
Roasted Ovation lamb rump, charred baby leeks, dashi broth and leek salt
By James Beck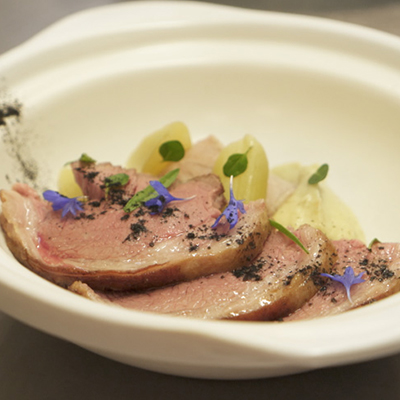 Serves 6
Time to cook: 40 minutes
Share:
Ingredients
3 Ovation lamb chumps (rumps) fat cap on rolled and tied with butchers twine for even cooking
18 stalks of tatsoi or a similar leafy green (such as bok choy)
3 tablespoons of Dashi Miso (soybean paste with bonito extract)  
For the charred leeks and leek salt
6 baby leeks
Pinch of salt  
For the leek puree
1 leek washed and chopped
½ an onion washed and chopped
½ a medium Rutabaga peeled and chopped. Or use a sweet potato or regular potato.
2 cloves of garlic minced
Pinch of cumin seeds
Pinch of coriander seeds
Pinch of fennel seeds
2 tablespoons sour cream
Salt to taste
Method
For the charred leeks and leek salt, on a chargrill or BBQ grill the leeks on all sides until they are reasonably charred but not over cooked. Allow the leeks to cool before peeling the charred skin. Return the skins to the chargrill or BBQ and continue cooking until completely black. Once the skins have cooled, blend in a food processor with a pinch of good quality sea salt and pass through a sieve to remove any large chunks and reserve as the leek salt.
Cut the peeled baby leeks into two centimetre pieces and reserve.
For the lamb, season both sides with salt and pepper and sear all sides in a hot pan so the surface is coloured. Place in a pre-heated oven at 180°C / 350°F and roast for about 30 minutes, basting occasionally.
Once cooked to your liking pull the lamb out of the oven and rest for at least 10 minutes.
For the leek puree, and while the lamb is cooking, gently sweat the vegetables and spices in a pot for five minutes. Cover with water, season to taste with salt and bring to a gentle simmer for about 15 minutes until well cooked.
Strain the cooking liquid to waste and place the cooked vegetables in a food processor with the sour cream and blend until smooth. Adjust the seasoning if necessary and pass through a fine sieve to remove any lumps. Reserve.
For the Dashi broth and while the lamb is resting, combine the peeled baby leeks, tatsoi and Dashi miso in a pan and bring to the boil and then remove from the heat.
In six large bowls spoon a quenelle of the leek puree. Take the warmed leek pieces from the Dashi broth and place around the puree. Carve the lamb and layer on top of itself to one side of the vegetables. Sprinkle the leek salt over the lamb. Pour around 50mls of Dashi broth into each bowl. Garnish with oregano leaves and optionally whatever edible flowers you may have to hand (I used cornflowers). Serve.