"My philosophy on farming is keep it as natural as possible. We don't use any antibiotics. We're hormone free and we don't use any genetically engineered feed. It's what Mother Nature has given us. We've got to work together, otherwise, it doesn't work."
"The biggest thing we do as farmers to look after our livestock is provide them with the best food, the best forage that nature is helping us grow."
Ohotu Station
Dean Francois - Manager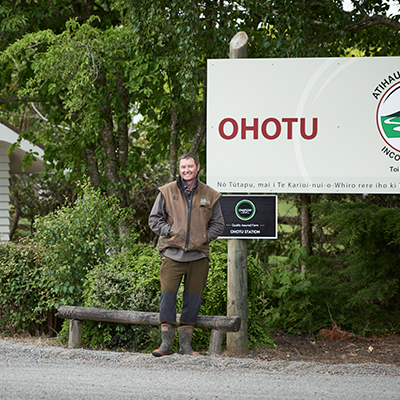 "We've got these beautiful volcanic soils which were a gift from the mountain and it's our job to farm it properly."
Welcome to Ohotu Station, one of eight breeding and finishing properties under the Atihau-Whanganui Incorporation established in 1970 to manage 101,000 Acres of Historic Maori land. Managed by Dean Francois, the flat to rolling hill country property has a high annual rainfall enabling 30,000 lambs to be carried and finished over the summer. Lambs supplied to Ovation are 100% grass fed raised without antibiotics, hormones or genetically engineered feed.
Farm Biography
Farmer:
Manager: Dean Francois
Property:
Ohotu Station
Location:
-39.443110, 175.462246
View on Google Maps
Farm size:
3,615 Acres or 1,463 Hectares
Description:
Flat to rolling hill country
History:
A Maori Incorporation established in 1970, following an order of the Maori Land Court to take back (resume and manage) 101,000 acres of land vested into the Aotea Maori Land Council by Whanganui Maori in 1903.