"As a child growing up here, I probably didn't appreciate how beautiful our farm is."
"We look after the land, and consequently, it will look after us."
"We continue to farm sustainably because we want the farm to be in our family for another 150-220 years."
Waiorongomai Station
Charlie Matthews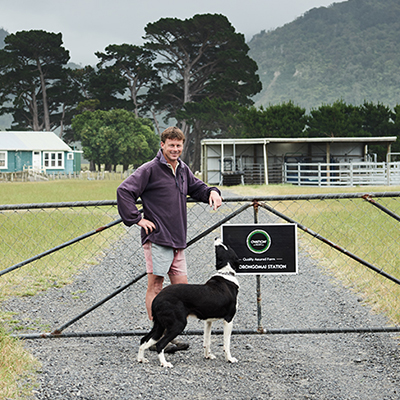 "My staff care for the animals as much as I do. They take an ownership of those animals, of the farm, of the paddocks. That ownership produces a quality product."
I'm Charlie Matthews and welcome to Waiorongomai Station. With my wife Karla, we are the 6th generation 'Matthews Caretakers' of Waiorongomai.  My parents Raymond and Susie provide close support and Karla and I hope our children Josh, Willie and Greta will take over as the 7th generation in years to come. Although our farm is a total of 7410 acres, half of it (3600 acres) is in native bush and wetlands which our forebears left and we are so lucky to have that protecting the natural environment on our doorstep. Waiorongamai proudly raises Ovation lambs that are 100% grass fed and raised without antibiotics, hormones or genetically engineered feed.
Farm Biography
Farmer:
Charlie Matthews
Property:
Waiorongomai Station
Location:
-41.254898 175.153973
View on Google Maps
Farm size:
7,410 Acres or 3,000 Hectares
Description:
Historic Wairarapa sheep and beef farm also offering rural accommodation
History:
6th generation farmers.