A very easy and simple way to prepare one of the most iconic lamb dishes.
Barbecued garlic and rosemary lamb chump (rump)
By Annie Millton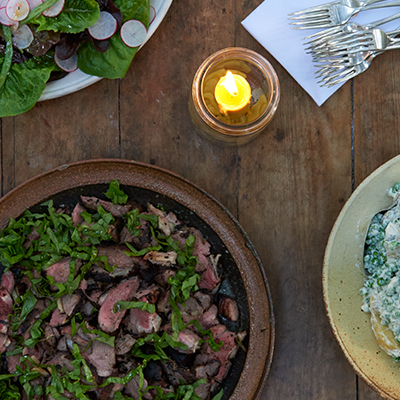 Serves 4
Time to cook: 20 minutes
Share:
Ingredients
4 Ovation lamb chumps (rumps) fat cap-on
½ cup olive oil
2 tablespoons grated lemon rind
2 tablespoons lemon juice
2 tablespoons Millton Viognier white wine
2 teaspoons seasoned pepper
2 tablespoons chopped fresh thyme
2 cloves garlic sliced
1 tablespoon fresh rosemary
Method
Mix the oil, lemon rind, lemon juice, wine, pepper and thyme in a jug.
Using a sharp knife score the fat cap of the rump in a checker-board fashion. Then using the point of the knife, make a few incisions in the lamb rump and insert slices of garlic and rosemary.
Pour the oil mixture over the lamb and ideally marinate the lamb in the refrigerator for 3 hours or overnight, turning the lamb occasionally.
Half an hour or so before cooking the lamb remove from the refrigerator, drain and allow the meat to come back to room temperature.
Place the meat on a hot barbecue grill and cook for 10 minutes on each side.
Allow the meat to rest for 5-10 minutes before carving across the grain and serving.