A fabulously flavoured and tender meal, delicious with pitas, salads and potatoes.
Greek-style Lamb Cutlets with Tzatziki
By Bunny Eats Design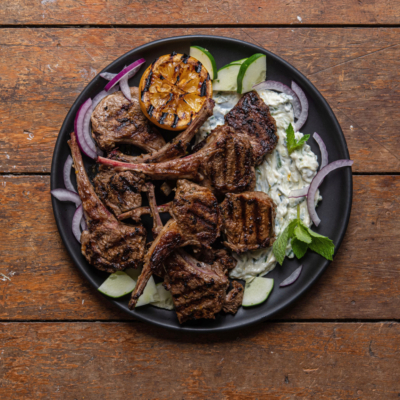 Serves 4
Share:
Ingredients
800g Ovation lamb rack
2 tbsp olive oil (plus more oil for cooking)
2 tbsp oregano (fresh or dried)
2 tbsp lemon juice
zest of 1 lemon
3 garlic cloves (minced)
1 tsp salt
1/2 tsp black pepper
TZATZIKI
1 cup cucumber (grated)
½ tsp salt
1 cup Greek yogurt
2 cloves of garlic (minced)
3 tbsp fresh mint (chopped)
1 tbsp extra virgin olive oil
1 tsp lemon juice
1 tsp lemon zest
black pepper
Method
Slice lamb shoulder rack into individual cutlets and pat dry with a paper towel.
If you are using fresh oregano, pick and discard the stems and finely chop the leaves.  Place into a large mixing bowl or storage container.  If using dried oregano, use as is.  Add oil, lemon juice and zest, garlic, salt, and pepper.  Mix to combine.
Add the lamb cutlets and rub marinade into the meat until cutlets are well covered.  Cover and place in the refrigerator for 1 hour or overnight.
TO MAKE THE TZATZIKI
Place the grated cucumber in a colander and sprinkle with salt.
Leave for 10 minutes and then squeeze the cucumber with your hands to squeeze out all the excess liquid.
Place the cucumber and all the tzatziki ingredients into a bowl or jar and stir until combined.
Season to taste with salt and black pepper.
Cover and refrigerate until required.
Take marinated lamb out of the fridge for 30 minutes before cooking.
Heat a little oil in a large frying pan or a BBQ grill to medium heat.  Grill cutlets for 2 minutes per side, cooking in batches to avoid overcrowding the pan.
Transfer to a platter and serve with tzatziki.