A very quick and easy way to prepare this deliciously flavoured lamb dish.
Lamb Rump Curry
By Bunny Eats Design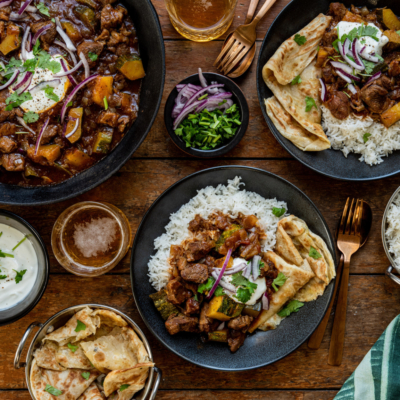 Serves 6-8
Share:
Ingredients
1.2 kg Ovation lamb rump, cut into bite size pieces
2 onions (diced)
500g Rogan Josh or Korma sauce
1 kg courgettes or kamo kamo (cut into bite size chunks)
1 cup yoghurt (plain or Greek)
Basmati rice, roti, or naan
OPTIONAL EXTRAS
A handful of fresh coriander
Some sliced red onion
FROM THE PANTRY
Salt and pepper
1 tbs cooking oil
Method
Heat a Dutch oven over medium high heat, and add oil once hot.
Add onions and sauté, stirring occasionally for 5 minutes until fragrant. Remove onions and reserve.
Add lamb pieces, seasoning well with salt and pepper.  Brown the lamb pieces for 5 minutes, turning occasionally until well seared.
Add the sautéed onions back into the pan and add the Rogan Josh or Korma sauce.  Bring the sauce to a simmer, cover with lid and simmer for 45 minutes until lamb is tender.
Add courgettes or kamo kamo and simmer uncovered for 15 minutes until just tender. Remove pot from heat.
Stir yoghurt through the curry or drop a spoonful of yoghurt on top of each serving.
Garnish with coriander and red onion.
Serve with basmati rice, roti or naan.