Zaaffran – A taste of Morocco Food Truck in Wellington, New Zealand combines contemporary street food with authentic Moroccan flavours. It was born out of a love for delicious, nourishing food and a desire to connect with the community.
Lamb tagine with prunes
By Zaaffran – A taste of Morocco Food Truck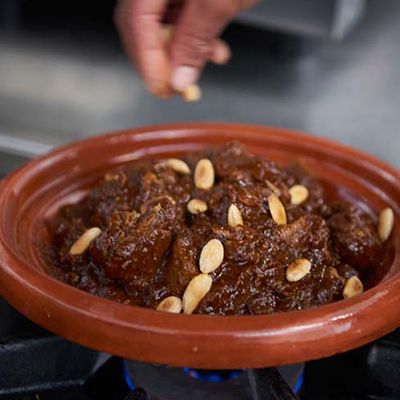 Serves 4
Time to cook: 1 ½ hours
Share:
Ingredients
1.5kg of Ovation lamb leg or shoulder cut into large pieces (bone in recommended for added flavour)
1 large onion, diced
4 cloves of garlic, crushed
1 teaspoon salt
½ teaspoon ground black pepper
1 heaped teaspoon of ras el hanout (traditional Moroccan spice mix)
1 teaspoon paprika
6 tablespoons olive oil
200g soaked prunes (soak in a cup of boiling water and set aside to cool)
50g roasted almond slices
1 tablespoon toasted sesame seeds
Method
Toast the almond slices and sesame seeds in a dry pan over a low heat until golden brown.
Mix lamb, onion, garlic, spices and olive oil together in a tagine (or a wide, deep saucepan) add 1/2 cup water and cover with the lid. Bring to the boil and then reduce heat to a simmer. Simmer for an hour and a half or until the lamb is tender. Add a little water from time to time to ensure it doesn't stick to the bottom or burn. The sauce should be thick and caramelised.
Add the prunes and simmer for a further ten minutes.
Serve in a single serve dish garnished with sliced almonds and sesame seeds.
Fresh flat bread is a great accompaniment.