Mechoui is a traditional North African cuisine prepared by roasting a whole lamb on a spit or in a pit in the ground. Our Mechoui recipe slowly roasts a leg of lamb in the oven until the meat is so tender you can pull it off the bone. Slow roasting with a very low temperature can take up to nine hours, depending on the thickness of the cut.
Moroccan mechoui
By Annie Millton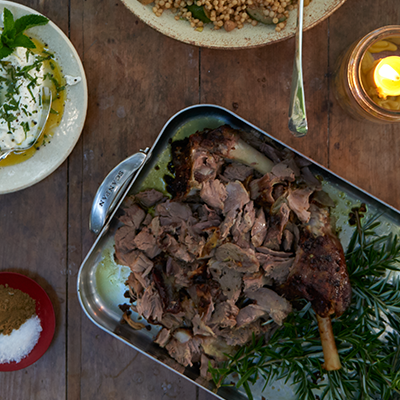 Serves 6-8
Time to cook: Up to 9 hours. The longer the better
Share:
Ingredients
1 Ovation leg of lamb (or shoulder) on the bone
4 tablespoons soft unsalted butter
4-5 cloves of garlic, pressed
Salt and pepper to taste
1 teaspoon cumin
½ teaspoon saffron threads, crushed. (Saffron is normally available in the spice section of your supermarket).
¼ teaspoon turmeric
1 tablespoon olive oil
Method
Preheat oven to 125°C. / 260°F
Trim the excess fat from the lamb, and make a dozen or more cuts deep into the meat with the tip of the knife.
Combine the butter, garlic, spices and olive oil and spread the mixture quite thickly over the entire leg of lamb, working some of the butter into the incisions made with the knife.
Place the leg of lamb into a roasting pan and cover with foil, sealing the edges tightly.
Roast the lamb, basting hourly and resealing the foil each time, for 7 to 8 hours, or until the juices run clear and the meat is tender enough to pinch off the bone.
Note: Small legs (under 2kg) may finish cooking in six hours; large legs may take closer to nine hours.
Remove the foil and increase the oven temperature to 240°C / 460°F. Brown the lamb, basting frequently, for 15 to 30 minutes, or until the meat is well coloured.
Transfer the lamb to a platter and allow it to rest for 10 minutes before serving. If desired, the juices can be poured over and around the lamb. Serve dishes of salt and cumin on the side for dipping.
Consider serving this with a carrot and grain salad.