Roast rack of lamb with tomatoes and parsnips
By Martin Bosley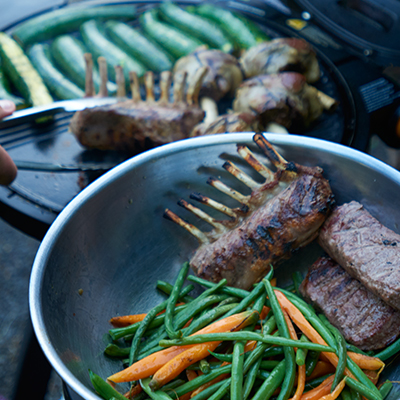 Serves 2-4
Time to cook: 1 hour
Share:
Ingredients
1 Ovation rack of lamb, about 500g
4 cloves garlic – crushed
2 tablespoons olive oil  
For the roast parsnips and tomatoes
4 large parsnips
50g unsalted butter
2 tomatoes
3 sprigs of thyme
1 tablespoon honey
Method
Prepare and start cooking the vegetables first.
Peel the parsnips and remove the tops. Slice each in half lengthwise or quarters if they are really big, and place in a roasting dish with the butter. Season with salt and pepper and roast at 200°C / 390°F for 25-30 minutes until the parsnips are golden.
Remove the cores from the tomatoes and cut them in half.
Remove the leaves from the thyme sprigs and sprinkle on top of the tomatoes, drizzle with the honey, season with salt and pepper and add to the roasting pan.
Continue to cook for 20 minutes, until the tomatoes are soft and the parsnips are sticky and golden.
For the lamb:
Rub a little olive oil over all the lamb and season both sides of the rack with salt and pepper.
Place the lamb into a shallow roasting dish and sprinkle the crushed garlic over the outside of the rack.
At the same time as adding the tomatoes to the parsnips, place the rack in the same oven and roast for 20 minutes at the same 200°C / 390°F. This should colour the skin lightly, and then remove from the oven.
Rest the meat for 10-15 minutes in a warm place, covered with foil, then slice into chops.
Serve with the parsnips and tomatoes, and pour any juices from the pan and resting plate over the chops.