Slow cooked lamb ribs, barbecue sauce and roasted sesame dressing
By Martin Bosley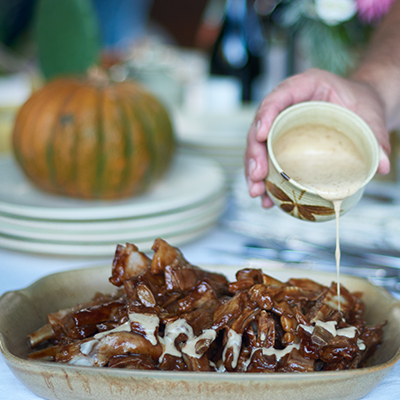 Serves 4
Time to cook: 2 ½ hours
Share:
Ingredients
2kg Ovation lamb breasts, with ribs attached
1 cup of white wine
2 garlic cloves
2 stalks of rosemary
Sea salt  
For the barbecue sauce:
3 tablespoons tomato ketchup
100ml beer, a lager will do nicely
2 tablespoons balsamic vinegar
2 tablespoons dark muscovado (or brown) sugar
1 tablespoon smooth Dijon mustard
Splash of Huffman's hot sauce, or Tabasco  
For the roasted sesame dressing:
2 tablespoons ground roasted white sesame seeds
100ml Japanese mayonnaise
1 tablespoon rice wine vinegar
2 teaspoons soy sauce
1 teaspoon mirin or sugar
2 teaspoons sesame oil
Method
Place the lamb breasts into a deep casserole dish with the wine, peeled and finely sliced garlic, rosemary stalks and teaspoon of sea salt. Add enough water to cover and bring to the boil on top of the stove. Cover with a lid or tin foil and slide the dish into the oven at 140°C / 285°F and cook until tender; about two hours.
Make the sauce while the lamb cooks by placing the ketchup, beer, vinegar, sugar, mustard and hot sauce into a saucepan and bring to a simmer over a medium heat, cooking for ten minutes until nice and thick.
Remove the casserole from the oven and lift the breasts from the dish and set to one side to cool. You can throw away the cooking liquid. Turn the oven temperature up to 200°C / 390°F. Cut the cooled breasts into individual ribs and tidy up any loose ends that may have come away from the meat. Brush the breasts with the barbecue sauce and place onto a baking sheet lined with baking paper and roast for 30 minutes until the sauce is lovely and sticky and the meat is falling away from the bone when pulled with a fork.
Prepare the dressing, by placing the sesame seeds into a dry frying pan and toast them over a low heat until the seeds start to pop. Remove from the heat, tip into a bowl and grind together to make a smooth paste. Mix all the ingredients together and season with a pinch of salt. 
Serve the ribs on a plate with the dressing in a side dish for dipping.