This dish is the authentic Greek experience and can be referred to as the Greek "fast food".
Souvlaki wrap
By The Greek Food Truck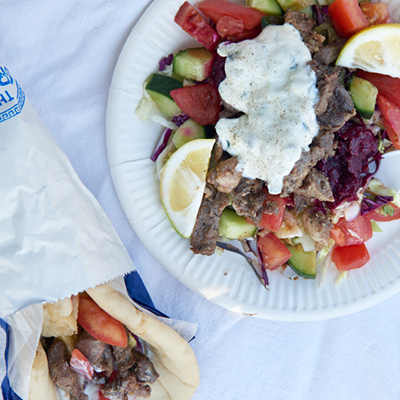 Share:
Ingredients
Any boneless Ovation Lamb, but the diced shoulder works exceptionally well.
Oregano
Salt & pepper
Olive oil
Garlic – crushed
Lemon juice
Onions – blended
Sliced fresh tomatoes
Sliced fresh red onions
French Fries cooked and seasoned
Tzatziki sauce (Greek yogurt sauce made with cucumbers and fresh mint.)
Method
Dice the lamb and marinate ideally for 30 minutes, in oregano, salt, pepper, olive oil, garlic, lemon juice and the blended onions.
Grill or BBQ the lamb as desired.
Brush the Pita bread with olive oil and warm on a hot plate or oven grill.
Assemble the wrap by adding a licking of Tzatziki to the warmed flat bread. Then layer some fresh onions, fresh tomatoes and lamb along with 4 or 5 French Fries.
Then wrap tightly.